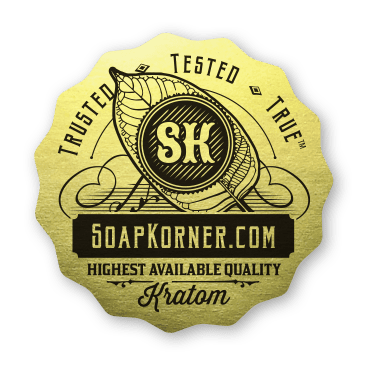 The Best Kratom Powder for Sale.
Soap Korner takes pride in hand-selecting and blending our Kratom products to produce the best Kratom powder & teas for sale anywhere online.
All Soap Korner products are 100% naturally derived and processed
How is Kratom Powder Used
How to take Kratom is a personal preference, but there are three main methods of consumption. This includes preparing Kratom tea from a powder, adding the powder to juice, or swallowing a capsule. The latter is more popular due to the plant's strong and distinct flavor.
The recommended Kratom dosage is two grams of powder mixed in boiling water or juice. The Kratom powder itself should also be consumed, not strained from your beverage. Do this up to two times per day, or every 12 hours, as desired.
Touching Our Korner of the World
Here at our little "Korner" of the world you'll find the best Kratom powder for sale, specialty Kratom teas and hemp products to complement your lifestyle. Shop with confidence, knowing our products are top-quality and lab-tested.
About Soap Korner
Since 2014, Soap Korner has sourced and produced the highest-quality products. Along with our personal relationship with farmers, we have our own manufacturing facility to help ensure quality control and product integrity. We take immense pride in the fact we are not only industry leaders in Kratom powders but also deliver five-star customer service that's rooted in product expertise and transparency.
Soap Korner is a family-owned and operated business.
Have questions about Soap Korner's products? We're happy to help! Please call us at 719-638-7627.
The AKA GMP Standards Program
Soap Korner and SK Herbalist are proud to announce we are part of the American Kratom Association Good Manufacturing Practices (AKA GMP) manufacturing program. We take quality and safety seriously and it is shown in the way we operate.
The AKA GMP Standards Program was created to establish a higher level of manufacturing processes for Kratom Vendors. AKA GMP participants have committed to implementing and following the manufacturing and processing standards outlined in the AKA GMP Standards Program.
Lab-Tested Quality You Can Trust
All Soap Korner products are 100% naturally derived and processed.
We are a leader in lab-testing Kratom powders.
On all our products, we conduct third-party lab tests to ensure they have the highest purity and potency.
Soap Korner strictly adheres to Good Manufacturing Practices (GMP) to meet all regulations.
Our team personally and expertly selects all our products to ensure they're top-quality. We personally know our suppliers because we visit them, including the Kratom powder suppliers in Indonesia and the tea farms in Nepal and India.